Homeless Youth And Refugee Children
with Regina Moller of Noank Community Support Services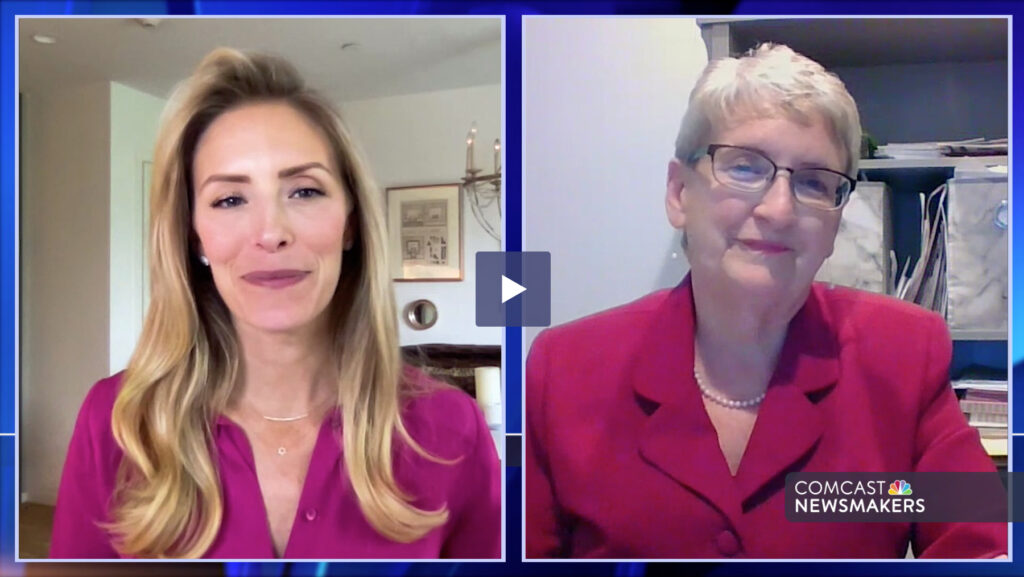 Noank Community Support Services operates a gender-responsive and trauma-informed therapeutic group home for girls aged 14-18, a homeless shelter for young adults aged 18-24 and shelter for refugees. NCSS Executive Director, Regina Moller, explains.
Hosted by: Jenny Johnson Produced by: Western New England Newsmakers Team
After challenging year, staff and clients of Noank Community Support Services celebrate together at picnic
Published June 16, 2021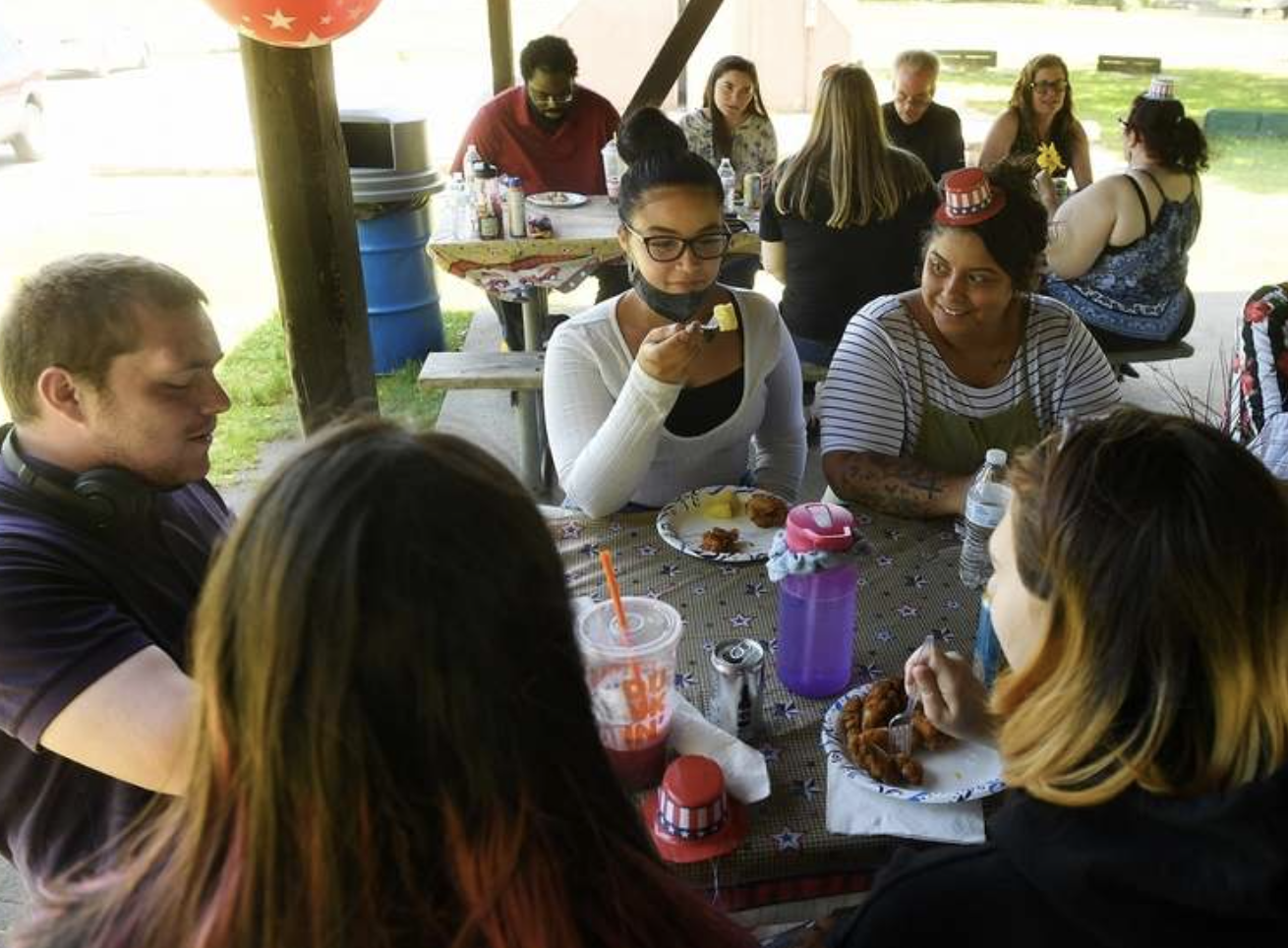 By Kimberly Drelich, The Day
Groton — People laughed and talked with one another at picnic tables under a pavilion adorned with balloons at Washington Park on the sunny and breezy Wednesday afternoon.
Stations were set up for people to decorate water bottles and flower pots, and to play games, from cornhole to soccer, on the grass.
"It's a celebration," Noank Community Support Services Executive Director Regina Moller said at the agency's annual field day, which was canceled last year due to the coronavirus pandemic. Agency clients and staff gathered together at the picnic for the first time in a long time to celebrate the return of some normalcy and to socialize.
"It was a difficult year," Moller said. "We've had staff with (COVID-19). We've had clients with COVID. We weren't able to intermingle programs. We canceled all of our usual staff celebrations."
She said the picnic is refreshing for both staff members and clients: "It's like we're connecting again," she said.
Moller said Noank Community Support Services offers a continuum of behavioral health services for people, from babies to the elderly. The organization has a homeless shelter for young adults ages 18 to 24, a shelter for refugee children up to age 18, and therapeutic group homes for adolescent girls, and provides community-based services for people with chronic mental illness, among other services.
People from the programs across the agency got to spend time with one another and also interact with the agency's staff at Wednesday's picnic.
"It's such a breath of fresh air literally and figuratively to be able to come back together and to celebrate that this agency has held us all together during this difficult time, and that we come together and celebrate a new chapter," said Kyle Murray, who enjoyed lunch at a picnic table next to recovery assistant Jill Mehlman.
Murray said he feels so supported by Mehlman and the agency. A number of years ago, he said he was hospitalized many times for mental health issues, but because of Noank Community Support Services, he has not had any major hospitalizations in over five years. He said he is thriving in the community, not only with his mental health, but being active at All Souls Unitarian Universalist Congregation and is going to a forum Thursday at Mitchell College to look at going to school there.
"It's been life-changing for me," Murray said. "I don't feel like I'm a patient or a client. I feel like that Jill, my recovery assistant, and I are partners in my recovery."
Murray has social anxiety, so having support when he goes to a grocery store or an appointment makes a huge difference. He said Kara Larkin, who coordinates the recovery assistants, is such a kind person and ensured clients still had coverage during the pandemic.
Mia Williams and Grace Bellisle, both 19, and Corey Reynolds, 21, were talking and enjoying lunch at the picnic, while case managers Brittney Senerth and Lisa Sweeney also were chatting nearby.
Noank Community Support Services is a service provider for the Community Housing Assistance program, which Williams and Bellisle, who were in foster care, participate in and which provides support so young adults can "secure housing and transition to living independently," according to Noank Community Support Services.
Williams said she has learned to be independent when she needs to be and to ask for help when she needs it. She is studying criminology in college and plans to either be a Department of Children and Families social worker or a probation officer for juveniles to help kids.
Bellisle said statistically many children in foster care end up on the streets, so she said without these programs, she probably would have ended up homeless. She is studying library tech in college, and will either pursue that field or switch to become an ultrasound technician.
Reynolds participates in a similar program, which provides support such as housing and help to find a stable job. He said he is deciding between three potential paths: certified nursing assistant, EMS/EMT or landscaping. The program and his case manager, Lisa, also have provided emotional support to Reynolds, whose father recently passed away, and helped keep him focused on his goals for his future, he said. He encouraged people to learn more about the programs because they're really helpful and especially for people in foster care, they are a "godsend."
Noank Community Support Services plans to expand its support services and has secured additional space, which is handicapped-accessible and will allow the organization to grow, Moller said. More information about the agency is available at its website, noankcss.org.
Article published in The New London Day May 1, 2020:
Spicer Mansion providing meals to young adult homeless shelter during pandemic
Groton — When Noank Community Support Services Executive Director Regina Moller recently received a call from the owner of Spicer Mansion offering to cook three meals a day for the agency's young adult homeless shelter, she was so grateful she started crying.
Amid the COVID-19 pandemic, the agency had been struggling to piece together meals for the 18- to 24-year-olds who, prior to the quarantine, ate meals while out in the community during the day, Moller said. Staff had to figure out who to ask for a donation and where to pick up food each day.
The delivery of donated meals alleviates that pressure, at a time when Noank Community Support Services also is facing a financial hit from the cancellation of its large fundraiser that typically brings in $40,000 for the agency, she said. The agency is seeking donations in lieu of people attending the gala.
The entire article can be read here:  New London Day Article May 1, 2020
How Can You Help During the COVID-19 Virus …
As Regina Moller, NCSS Executive Director outlines below, our agency is being severely affected by the spread of the COVID-19 virus.
Monetary donations are always welcome, and any amount is greatly appreciated!
If you would like to donate products, we are always in need of the following items:
Soap – Laundry detergent, dishwashing soap, dishwasher pods
Food storage items – foil, plastic wrap
Bottled water
Paper products – paper towels, toilet paper, kleenex
Cleaning products – Swiffer refills, sponges, bleach
Disposable cups, eating utensils
Trash bags – 30 gallon and kitchen-size
Linens – bath towels, pillows, twin bed linens
Canned goods of any kind
Face masks/disposable gloves
Non-perishable food items such as boxes of pasta, spaghetti sauce
Fresh food items are always welcome … produce, fruit, dairy
Regina Moller can arrange to take delivery of any of these items, she can be reached at 860/910-1873.
Monetary donations can be made by clicking on the Donate tab at the top of this page.
April 3, 2020
Dear Friend of Noank Community Support Services:
The COVID-19 virus is forcing the majority of companies, including our agency, to make difficult decisions as the risk continues.  In light of the situation, this year's Annual Kentucky Derby Gala scheduled for May 2, 2020 has been cancelled. This annual event is our major fundraiser event with usual proceeds of around $40,000. The proceeds help to support our mission to improve the lives of both children and adults within our community.
We understand these are trying times for all of us and we look forward to the day when our lives and businesses can return to normal.  With this crisis, we also are facing the suspension of our school transportation program and other services that are our additional revenue sources.  With those losses as well as our Gala losses, we are in trying times. Our 24/7 group homes for adolescents, our child and young adult immigrant and homeless shelters, and our in home services to adults with chronic mental illness are designated essential services and we must remain open and operate them.
Our staff are working in very hazardous conditions, with limited access to masks and gloves. In keeping the shelters open, we are facing multiple challenges: close working quarters in group homes and in people's homes; shelter food shortages as clients that normally are gone all day are now home; staff shortages due to sickness; fear for the safety of all our staff and their families to whom they return to after their shift; having to hire temporary workers and utilize an unprecedented amount of overtime; and other increased demands.
Our direct service staff are heroes in this crisis- they put their lives and their families at risk daily.
As we approach the mid-way point in our 49th year of operation, we continue to be grateful for your generosity over the years which has helped us grow with your support.
If you are able to in any way, please consider making a donation in lieu of attending this year's Gala.  As always, your contribution is tax deductible, and any amount is appreciated.  Your tax deductible donation can be mailed or made online at www.noankcss.org.
Thank you once again for all your support.  Stay in, stay healthy and safe!
Sincerely,
Regina Moller
Executive Director
MURPHY ANNOUNCES REGINA MOLLER, EXECUTIVE DIRECTOR OF NOANK COMMUNITY SUPPORT SERVICES IN GROTON, AS HIS STATE OF THE UNION GUEST
Non-Profit Organization Provides Services For Children Separated From Families At The Southern Border & Was Affected By The Recent Government Shutdown
Friday, February 1, 2019
WASHINGTON – U.S. Senator Chris Murphy (D-Conn.) announced on Friday that he has invited Regina Moller to be his guest for the State of the Union address. Regina is the executive director of Noank Community Support Services (NCSS), a non-profit organization in Groton that provides behavioral health services to southeastern Connecticut. NCSS has been affected by the Trump administration's immigration policies and the recent government shutdown. NCSS provides shelter and services to unaccompanied minors who were separated from their family at the border. Additionally, NCSS relies on grant money from the U.S. Department of Housing and Urban Development's (HUD) to provide housing services for homeless young adults. Due to the partial government shutdown, which lasted 35 days, NCSS did not receive federal funding and instead relied on its own limited funds to run its youth homelessness shelter.
President Donald Trump will deliver his second State of the Union address on Tuesday, February 5, 2019 at 9:00pm.
"Regina and her team at Noank Community Support Services are heroes. I'm so glad she is joining me at the State of the Union to shed light on how President Trump's border policies are traumatizing a generation of children and how the recent government shutdown affected Connecticut. Regina's organization takes care of child refugees, kids who are feeling the violence and trauma of places like Ecuador and Guatemala and see the United States as a country that can save their lives. These kids aren't threats to our security, they are our future leaders, and I hope my colleagues will realize this as Regina tells these children's stories when she comes to Washington," said Murphy.
"I'm proud to join Senator Murphy at the State of the Union to shed a light on what we're doing in Connecticut to help our most vulnerable residents. The recent shutdown had a trickledown effect that put our homeless shelter for young adults at risk of closure. The young men and women have experienced much trauma already in their lives, and depend on the stable provision of services. We are now trying to get back on track and hope there will be no further shutdowns that impact these critical community services. These youth deserve better," said Regina Moller, Executive Director of NCSS. "Additionally, our shelter for unaccompanied refugee children has also been impacted by governmental changes. Changes to rules in the Department of Homeland Security have led to fewer sponsors willing to step forward out of fear. Since walls will never stop desperation, we would like to see more efforts at getting to the root cause of the migration."
Earlier this week, Murphy and U.S. Senator Richard Blumenthal (D-Conn.) wrote a letter to HUD secretary Ben Carson expressing the effects the government shutdown had on NCSS and other programs in Connecticut, and asked that organizations that receive grant money from HUD be fully reimbursed for any non-grant funds that were used during the government shutdown.
Noank Community Support Services, Inc. is a small 501c non-profit organization that has been providing behavioral health services to the Southeastern Connecticut community for 48 years. Their services include: a shelter for unaccompanied immigrant children ages 0-17; the only shelter in the region specifically for homeless young adults ages 18-24; services for LGBTQ youth; a gender-responsive group home for adolescent girls in state custody; and an array of community-based services for youth and adults of all ages that have chronic mental health needs. All services are trauma-informed and culturally-sensitive. Their mission is dedicated to improving lives by providing specialized and individualized services, the development of healthy relationships, access to resources, connection to the larger community, and hope for the future.
###
https://www.murphy.senate.gov/newsroom/press-releases/murphy-announces-regina-moller-executive-director-of-noank-community-support-services-in-groton-as-his-state-of-the-union-guest
Statement on Immigrant Children
06.21.2018
Noank Community Support Services, Inc. is a 501C non-profit organization that services those in need in a variety of ways, including adults with chronic mental illness, young adults that are homeless and children in foster care.  We have offered culturally sensitive, trauma-informed and gender-responsive services for over 46 years. One of our many services, for which we received a HHS grant, is a shelter for Unaccompanied Alien Children under age 18.  We provide a safe, family-like environment for up to 12 children to stay, while we locate sponsors, who are usually family, for them.  It usually takes us approximately 4-6 weeks to reunify them with family.  We have a clinician, case managers, nurse and a teacher on staff, as well as partners in the community who provide medical care as needed.  These children have left their countries due to severe threats and violence from drug lords- to them, to the babies of teenage mothers or to their family.  They have witnessed murders and other atrocities that no child should ever experience.  Their journeys to the U.S. have been long, traumatic and dangerous.  They are simply trying to survive.  They are sent to us after processing at the border.  We mostly have housed teenagers, some with their babies and some sibling pairs whose parents have been murdered. They often have some family contacts in the US that we are able to connect them with.  Ours is a safe and caring environment for them.  They are often able to relax, play and have fun with us for the first time in a long time.  We help them to process their trauma histories.  Many have never received education or only limited schooling and are very excited to learn.  We accompany the children to court in their appeal to seek asylum, and have legal partners who represent them.  The children enjoy being with us and at times keep in contact after discharge. Our grant covers some of our operating costs and we rely on donations as well. Our mission statement is: Improving Lives, fostering self-reliance and providing hope for the future through individualized service and access to resources of the larger community.
We are unable to disclose the location of our services for these children out of respect for them and for their safety.  We are also not able to speak about specific children for privacy reasons.  General questions about our agency can be directed to [email protected] or other questions about the program of HHS may be directed to [email protected]
Regina Moller
Executive Director
Shutdown has put Groton young adult shelter in jeopardy
Published January 27. 2019
Groton — Unable to get grant funding during the 35-day government shutdown, the only local homeless shelter specifically for 18- to 24-year-olds is on life support.
Noank Community Support Services Executive Director Regina Moller said her nonprofit launched the nine-bed shelter, known as the Main Street House, with its own money in September 2017.
With research showing that young adults don't do well in traditional adult shelters, the nonprofit decided to fill the need in southeastern Connecticut.
Seeing good results — none of the 26 young adults served so far has returned to homelessness — Moller and her colleagues applied for and received about $340,000 from the state Youth Homelessness Demonstration Program, or YHDP. The initiative, funded by the U.S. Department of Housing and Urban Development, aims to get young adults into permanent housing.
Although the YHDP money became available Nov. 1, the Noank nonprofit couldn't access it then. Nonprofits that get grants from HUD first have to register for the Line of Credit Control System, which involves visiting their banks and exchanging forms with regional HUD offices.