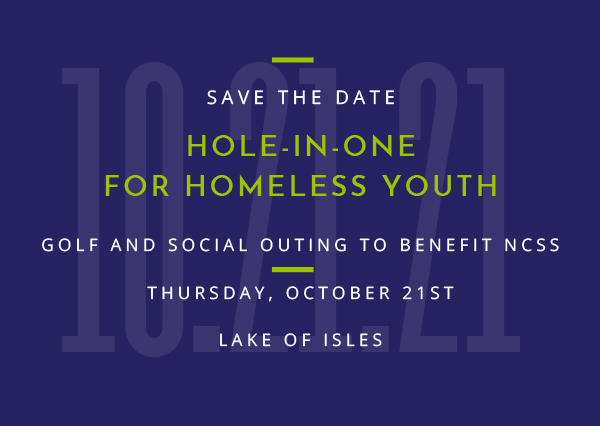 This year's Gala has been cancelled; see adjacent letter from our Executive Director, Regina Moller.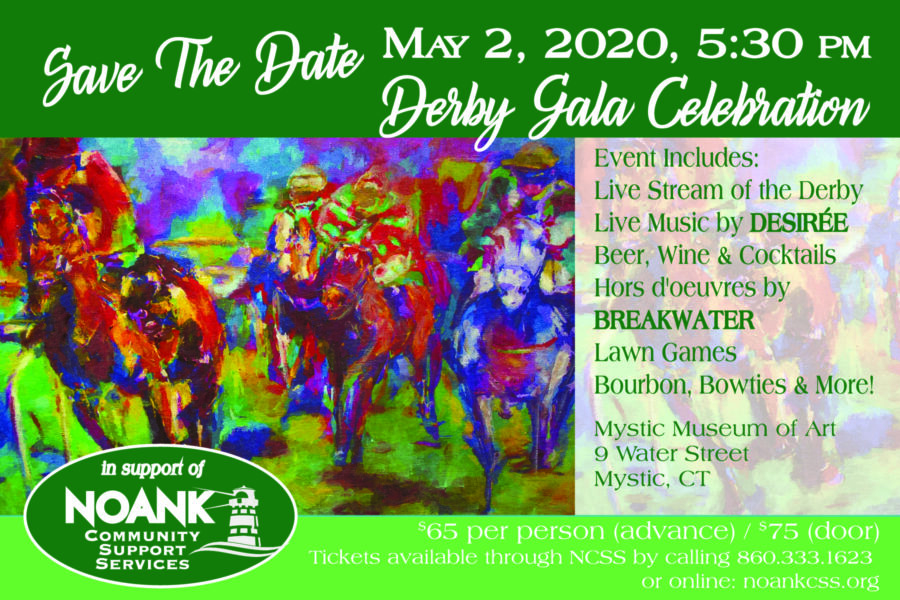 April 29, 2021
Dear Friends,
Spring is finally here! It has been a long winter and a very challenging year.COVID-19 has brought Noank Community Support Services (NCSS) many unforeseen challenges, however, with dedicated staff members and generous donors we have made it through some of our darkest days. It has been truly humbling to receive support from people like you when our clients need us the most.
Your compassion has made it possible for others, who you may never meet, to have a home to recover and take shelter during these most difficult times. We remain dedicated to our mission and I'm pleased to report that we didn't turn a single client away, and served 283 clients this past year!
As you may have guessed, we are unable to host our annual fundraiser, TheKentucky Derby Gala, which is always an anticipated event to celebrate and support NCSS. Sadly, the need for our services has increased significantly over the past year. We have seen an increase in the number of calls and reports of those experiencing trauma, anxiety, depression, and homelessness.
We continue to make much-needed progress, however, the demand for our services continues to rise. If you are able, please consider making a donation to support our community and provide vital personalized care, mental health services, and most importantly, a place to call "home." The tax-deductible gift you make will support our life-changing services.
We thank you from the bottom of our hearts, and we wish you a happy and healthy 2021. We look forward to seeing you in person and gathering again to celebrate all the progress we have made together.
Kind Regards,
Dr. Regina Moller, Executive Director
March 1, 2021
Hello Visitors, Donors and Consumers of our Services,
Spring is almost here! It has been a long winter, and a difficult year with the pandemic. COVID has brought Noank Community Support Services (NCSS) many challenges, but with great staff and the generous support of donors we have gotten through some of our darkest days. We did have several staff that had COVID, as well as a handful of clients. We painfully lost two older adult clients that staff had worked with for over a year. Younger clients with COVID recovered. All of our staff recovered also, thankfully. The impact on staffing schedules, however, required a bit of creative thinking, juggling of staff and managers' hours to work overtime and cover empty slots. Great and exhausting work was done by all staff and the support of our Board of Directors.
While much of the world was shutting down due to the pandemic, we were still operating, as an essential business. In fact, the need for our services increased during the last year. Though we are a smaller agency, and program capacity is limited and clients remain with us for sometimes months at a time, we turned no client away and saw capacity increases. We served 283 clients during the pandemic! Some examples of our services provided for the year 2020 include:
Our Community Housing Program that serves young adults transitioning from foster care to self-sufficiency served 18 clients that are now living independently and attending college or working.
Our 5 bed therapeutic group home for adolescent girls had 11 residents this last year that we were able to transition to families or independent programs. The successes of transitioning from state guardianship back to families of origin always warms your heart.
Our Short Term Assessment and Reunification house served 15 adolescents sent from DCF that were in need of emergent place to stay while finding a stable place for them to discharge to.
Our Community Based programs were sadly impacted by COVID, with a couple of our clients succumbing to the virus. Our staff continued to support the homebound adult clients that have chronic mental illness and served 33 clients that were able to remain successfully at home and avoid going back to hospital or nursing home care.
The young adult Homeless Shelter in Noank was overflowing. We just did not have enough beds as young adults were severely impacted by the pandemic. We housed 51 young adults that were homeless, aged 18-24, and all were transitioned to permanent, stable housing and found employment to begin to support themselves. We housed and did supported case management services for an additional 12 clients.
In addition to those 51 that needed shelter, we served 118 homeless young adults and helped to find them places to live and avoid coming into shelter!
Our refugee shelter had a good period of time when no referrals were coming in due to COIVD shut downs, and yet we still served 37 refugees ages 0-18 during the year! Our school for them never stopped as did the great work of our staff supporting them through the double trauma of immigration and a pandemic. All were reunified with families and sponsors.
What fantastic support we also received from the community! Donations of food, furniture and needed items were so much appreciated as the pandemic put extra strain on our limited resources. We also, unfortunately, had to cancel our usual big yearly fundraiser, The Kentucky Derby Gala, which is always an anticipated event in our region. Yet folks stepped up to help out when we sent out a letter as an appeal to the increased demands of people needing our services. We so appreciate the need was recognized and many of our donors came through with financial support at this time that stretched and strained us all. Again this year, our Gala must also be cancelled due to the ongoing risk of COVID and restrictions placed on events.
We look hopefully to the future though, and an anticipated post vaccine period when we might all be able to function differently again, more towards a new normal. Our clients will continue to need us. The community must still be served despite closures and we always welcome and appreciate your support. Together, we all made a positive difference to 283 people this last year, and the need shall continue.
Stay safe, mask up, get vaccinated if able, and we shall see you all soon.
Fondly,
Regina
Dr. Regina Moller
Executive Director
Noank Community Support Services, Inc.
Article published in The New London Day May 1, 2020:
Spicer Mansion providing meals to young adult homeless shelter during pandemic
Groton — When Noank Community Support Services Executive Director Regina Moller recently received a call from the owner of Spicer Mansion offering to cook three meals a day for the agency's young adult homeless shelter, she was so grateful she started crying.
Amid the COVID-19 pandemic, the agency had been struggling to piece together meals for the 18- to 24-year-olds who, prior to the quarantine, ate meals while out in the community during the day, Moller said. Staff had to figure out who to ask for a donation and where to pick up food each day.
The delivery of donated meals alleviates that pressure, at a time when Noank Community Support Services also is facing a financial hit from the cancellation of its large fundraiser that typically brings in $40,000 for the agency, she said. The agency is seeking donations in lieu of people attending the gala.
The entire article can be read here:  New London Day Article May 1, 2020
How Can You Help During the COVID-19 Virus …
As Regina Moller, NCSS Executive Director outlines below, our agency is being severely affected by the spread of the COVID-19 virus.
Monetary donations are always welcome, and any amount is greatly appreciated!
If you would like to donate products, we are always in need of the following items:
Soap – Laundry detergent, dishwashing soap, dishwasher pods
Food storage items – foil, plastic wrap
Bottled water
Paper products – paper towels, toilet paper, kleenex
Cleaning products – Swiffer refills, sponges, bleach
Disposable cups, eating utensils
Trash bags – 30 gallon and kitchen-size
Linens – bath towels, pillows, twin bed linens
Canned goods of any kind
Face masks/disposable gloves
Non-perishable food items such as boxes of pasta, spaghetti sauce
Fresh food items are always welcome … produce, fruit, dairy
Regina Moller can arrange to take delivery of any of these items, she can be reached at 860/910-1873.
Monetary donations can be made by clicking on the Donate tab at the top of this page.
April 3, 2020
Dear Friend of Noank Community Support Services:
The COVID-19 virus is forcing the majority of companies, including our agency, to make difficult decisions as the risk continues.  In light of the situation, this year's Annual Kentucky Derby Gala scheduled for May 2, 2020 has been cancelled. This annual event is our major fundraiser event with usual proceeds of around $40,000. The proceeds help to support our mission to improve the lives of both children and adults within our community.
We understand these are trying times for all of us and we look forward to the day when our lives and businesses can return to normal.  With this crisis, we also are facing the suspension of our school transportation program and other services that are our additional revenue sources.  With those losses as well as our Gala losses, we are in trying times. Our 24/7 group homes for adolescents, our child and young adult immigrant and homeless shelters, and our in home services to adults with chronic mental illness are designated essential services and we must remain open and operate them.
Our staff are working in very hazardous conditions, with limited access to masks and gloves. In keeping the shelters open, we are facing multiple challenges: close working quarters in group homes and in people's homes; shelter food shortages as clients that normally are gone all day are now home; staff shortages due to sickness; fear for the safety of all our staff and their families to whom they return to after their shift; having to hire temporary workers and utilize an unprecedented amount of overtime; and other increased demands.
Our direct service staff are heroes in this crisis- they put their lives and their families at risk daily.
As we approach the mid-way point in our 49th year of operation, we continue to be grateful for your generosity over the years which has helped us grow with your support.
If you are able to in any way, please consider making a donation in lieu of attending this year's Gala.  As always, your contribution is tax deductible, and any amount is appreciated.  Your tax deductible donation can be mailed or made online at www.noankcss.org.
Thank you once again for all your support.  Stay in, stay healthy and safe!
Sincerely,
Regina Moller
Executive Director
MURPHY ANNOUNCES REGINA MOLLER, EXECUTIVE DIRECTOR OF NOANK COMMUNITY SUPPORT SERVICES IN GROTON, AS HIS STATE OF THE UNION GUEST
Non-Profit Organization Provides Services For Children Separated From Families At The Southern Border & Was Affected By The Recent Government Shutdown
Friday, February 1, 2019
WASHINGTON – U.S. Senator Chris Murphy (D-Conn.) announced on Friday that he has invited Regina Moller to be his guest for the State of the Union address. Regina is the executive director of Noank Community Support Services (NCSS), a non-profit organization in Groton that provides behavioral health services to southeastern Connecticut. NCSS has been affected by the Trump administration's immigration policies and the recent government shutdown. NCSS provides shelter and services to unaccompanied minors who were separated from their family at the border. Additionally, NCSS relies on grant money from the U.S. Department of Housing and Urban Development's (HUD) to provide housing services for homeless young adults. Due to the partial government shutdown, which lasted 35 days, NCSS did not receive federal funding and instead relied on its own limited funds to run its youth homelessness shelter.
President Donald Trump will deliver his second State of the Union address on Tuesday, February 5, 2019 at 9:00pm.
"Regina and her team at Noank Community Support Services are heroes. I'm so glad she is joining me at the State of the Union to shed light on how President Trump's border policies are traumatizing a generation of children and how the recent government shutdown affected Connecticut. Regina's organization takes care of child refugees, kids who are feeling the violence and trauma of places like Ecuador and Guatemala and see the United States as a country that can save their lives. These kids aren't threats to our security, they are our future leaders, and I hope my colleagues will realize this as Regina tells these children's stories when she comes to Washington," said Murphy.
"I'm proud to join Senator Murphy at the State of the Union to shed a light on what we're doing in Connecticut to help our most vulnerable residents. The recent shutdown had a trickledown effect that put our homeless shelter for young adults at risk of closure. The young men and women have experienced much trauma already in their lives, and depend on the stable provision of services. We are now trying to get back on track and hope there will be no further shutdowns that impact these critical community services. These youth deserve better," said Regina Moller, Executive Director of NCSS. "Additionally, our shelter for unaccompanied refugee children has also been impacted by governmental changes. Changes to rules in the Department of Homeland Security have led to fewer sponsors willing to step forward out of fear. Since walls will never stop desperation, we would like to see more efforts at getting to the root cause of the migration."
Earlier this week, Murphy and U.S. Senator Richard Blumenthal (D-Conn.) wrote a letter to HUD secretary Ben Carson expressing the effects the government shutdown had on NCSS and other programs in Connecticut, and asked that organizations that receive grant money from HUD be fully reimbursed for any non-grant funds that were used during the government shutdown.
Noank Community Support Services, Inc. is a small 501c non-profit organization that has been providing behavioral health services to the Southeastern Connecticut community for 48 years. Their services include: a shelter for unaccompanied immigrant children ages 0-17; the only shelter in the region specifically for homeless young adults ages 18-24; services for LGBTQ youth; a gender-responsive group home for adolescent girls in state custody; and an array of community-based services for youth and adults of all ages that have chronic mental health needs. All services are trauma-informed and culturally-sensitive. Their mission is dedicated to improving lives by providing specialized and individualized services, the development of healthy relationships, access to resources, connection to the larger community, and hope for the future.
###
https://www.murphy.senate.gov/newsroom/press-releases/murphy-announces-regina-moller-executive-director-of-noank-community-support-services-in-groton-as-his-state-of-the-union-guest
Statement on Immigrant Children
06.21.2018
Noank Community Support Services, Inc. is a 501C non-profit organization that services those in need in a variety of ways, including adults with chronic mental illness, young adults that are homeless and children in foster care.  We have offered culturally sensitive, trauma-informed and gender-responsive services for over 46 years. One of our many services, for which we received a HHS grant, is a shelter for Unaccompanied Alien Children under age 18.  We provide a safe, family-like environment for up to 12 children to stay, while we locate sponsors, who are usually family, for them.  It usually takes us approximately 4-6 weeks to reunify them with family.  We have a clinician, case managers, nurse and a teacher on staff, as well as partners in the community who provide medical care as needed.  These children have left their countries due to severe threats and violence from drug lords- to them, to the babies of teenage mothers or to their family.  They have witnessed murders and other atrocities that no child should ever experience.  Their journeys to the U.S. have been long, traumatic and dangerous.  They are simply trying to survive.  They are sent to us after processing at the border.  We mostly have housed teenagers, some with their babies and some sibling pairs whose parents have been murdered. They often have some family contacts in the US that we are able to connect them with.  Ours is a safe and caring environment for them.  They are often able to relax, play and have fun with us for the first time in a long time.  We help them to process their trauma histories.  Many have never received education or only limited schooling and are very excited to learn.  We accompany the children to court in their appeal to seek asylum, and have legal partners who represent them.  The children enjoy being with us and at times keep in contact after discharge. Our grant covers some of our operating costs and we rely on donations as well. Our mission statement is: Improving Lives, fostering self-reliance and providing hope for the future through individualized service and access to resources of the larger community.
We are unable to disclose the location of our services for these children out of respect for them and for their safety.  We are also not able to speak about specific children for privacy reasons.  General questions about our agency can be directed to rmoller@noankcss.org or other questions about the program of HHS may be directed to Media@acf.hhs.gov
Regina Moller
Executive Director
Shutdown has put Groton young adult shelter in jeopardy
Published January 27. 2019
Groton — Unable to get grant funding during the 35-day government shutdown, the only local homeless shelter specifically for 18- to 24-year-olds is on life support.
Noank Community Support Services Executive Director Regina Moller said her nonprofit launched the nine-bed shelter, known as the Main Street House, with its own money in September 2017.
With research showing that young adults don't do well in traditional adult shelters, the nonprofit decided to fill the need in southeastern Connecticut.
Seeing good results — none of the 26 young adults served so far has returned to homelessness — Moller and her colleagues applied for and received about $340,000 from the state Youth Homelessness Demonstration Program, or YHDP. The initiative, funded by the U.S. Department of Housing and Urban Development, aims to get young adults into permanent housing.
Although the YHDP money became available Nov. 1, the Noank nonprofit couldn't access it then. Nonprofits that get grants from HUD first have to register for the Line of Credit Control System, which involves visiting their banks and exchanging forms with regional HUD offices.