Join us to celebrate
The Kentucky Derby in support of Noank CSS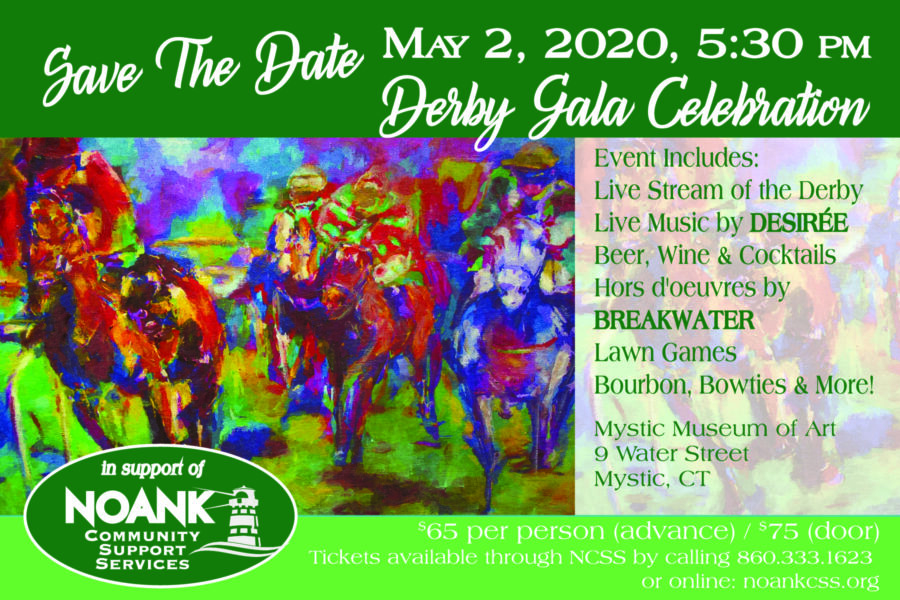 EVENT: Kentucky Derby Gala
This year's Gala has been postponed; more details to follow



WHEN: Saturday, May 2nd, 2020, 5:30pm
WHERE: Mystic Museum of Art
Hats & Bowties Encouraged!
Live Music From Desiree
Lawn Games
Live Stream of Derby
Beer, Wine & Cocktails
Hors D'oeuvres by Go Fish & Breakwater
'Best Dressed' Competition
Live & Silent Auction
MURPHY ANNOUNCES REGINA MOLLER, EXECUTIVE DIRECTOR OF NOANK COMMUNITY SUPPORT SERVICES IN GROTON, AS HIS STATE OF THE UNION GUEST
Non-Profit Organization Provides Services For Children Separated From Families At The Southern Border & Was Affected By The Recent Government Shutdown
Friday, February 1, 2019
WASHINGTON – U.S. Senator Chris Murphy (D-Conn.) announced on Friday that he has invited Regina Moller to be his guest for the State of the Union address. Regina is the executive director of Noank Community Support Services (NCSS), a non-profit organization in Groton that provides behavioral health services to southeastern Connecticut. NCSS has been affected by the Trump administration's immigration policies and the recent government shutdown. NCSS provides shelter and services to unaccompanied minors who were separated from their family at the border. Additionally, NCSS relies on grant money from the U.S. Department of Housing and Urban Development's (HUD) to provide housing services for homeless young adults. Due to the partial government shutdown, which lasted 35 days, NCSS did not receive federal funding and instead relied on its own limited funds to run its youth homelessness shelter.
President Donald Trump will deliver his second State of the Union address on Tuesday, February 5, 2019 at 9:00pm.
"Regina and her team at Noank Community Support Services are heroes. I'm so glad she is joining me at the State of the Union to shed light on how President Trump's border policies are traumatizing a generation of children and how the recent government shutdown affected Connecticut. Regina's organization takes care of child refugees, kids who are feeling the violence and trauma of places like Ecuador and Guatemala and see the United States as a country that can save their lives. These kids aren't threats to our security, they are our future leaders, and I hope my colleagues will realize this as Regina tells these children's stories when she comes to Washington," said Murphy.
"I'm proud to join Senator Murphy at the State of the Union to shed a light on what we're doing in Connecticut to help our most vulnerable residents. The recent shutdown had a trickledown effect that put our homeless shelter for young adults at risk of closure. The young men and women have experienced much trauma already in their lives, and depend on the stable provision of services. We are now trying to get back on track and hope there will be no further shutdowns that impact these critical community services. These youth deserve better," said Regina Moller, Executive Director of NCSS. "Additionally, our shelter for unaccompanied refugee children has also been impacted by governmental changes. Changes to rules in the Department of Homeland Security have led to fewer sponsors willing to step forward out of fear. Since walls will never stop desperation, we would like to see more efforts at getting to the root cause of the migration."
Earlier this week, Murphy and U.S. Senator Richard Blumenthal (D-Conn.) wrote a letter to HUD secretary Ben Carson expressing the effects the government shutdown had on NCSS and other programs in Connecticut, and asked that organizations that receive grant money from HUD be fully reimbursed for any non-grant funds that were used during the government shutdown.
Noank Community Support Services, Inc. is a small 501c non-profit organization that has been providing behavioral health services to the Southeastern Connecticut community for 48 years. Their services include: a shelter for unaccompanied immigrant children ages 0-17; the only shelter in the region specifically for homeless young adults ages 18-24; services for LGBTQ youth; a gender-responsive group home for adolescent girls in state custody; and an array of community-based services for youth and adults of all ages that have chronic mental health needs. All services are trauma-informed and culturally-sensitive. Their mission is dedicated to improving lives by providing specialized and individualized services, the development of healthy relationships, access to resources, connection to the larger community, and hope for the future.
###
https://www.murphy.senate.gov/newsroom/press-releases/murphy-announces-regina-moller-executive-director-of-noank-community-support-services-in-groton-as-his-state-of-the-union-guest
Statement on Immigrant Children
06.21.2018
Noank Community Support Services, Inc. is a 501C non-profit organization that services those in need in a variety of ways, including adults with chronic mental illness, young adults that are homeless and children in foster care.  We have offered culturally sensitive, trauma-informed and gender-responsive services for over 46 years. One of our many services, for which we received a HHS grant, is a shelter for Unaccompanied Alien Children under age 18.  We provide a safe, family-like environment for up to 12 children to stay, while we locate sponsors, who are usually family, for them.  It usually takes us approximately 4-6 weeks to reunify them with family.  We have a clinician, case managers, nurse and a teacher on staff, as well as partners in the community who provide medical care as needed.  These children have left their countries due to severe threats and violence from drug lords- to them, to the babies of teenage mothers or to their family.  They have witnessed murders and other atrocities that no child should ever experience.  Their journeys to the U.S. have been long, traumatic and dangerous.  They are simply trying to survive.  They are sent to us after processing at the border.  We mostly have housed teenagers, some with their babies and some sibling pairs whose parents have been murdered. They often have some family contacts in the US that we are able to connect them with.  Ours is a safe and caring environment for them.  They are often able to relax, play and have fun with us for the first time in a long time.  We help them to process their trauma histories.  Many have never received education or only limited schooling and are very excited to learn.  We accompany the children to court in their appeal to seek asylum, and have legal partners who represent them.  The children enjoy being with us and at times keep in contact after discharge. Our grant covers some of our operating costs and we rely on donations as well. Our mission statement is: Improving Lives, fostering self-reliance and providing hope for the future through individualized service and access to resources of the larger community.
We are unable to disclose the location of our services for these children out of respect for them and for their safety.  We are also not able to speak about specific children for privacy reasons.  General questions about our agency can be directed to rmoller@noankcss.org or other questions about the program of HHS may be directed to Media@acf.hhs.gov
Regina Moller
Executive Director
Shutdown has put Groton young adult shelter in jeopardy
Published January 27. 2019
Groton — Unable to get grant funding during the 35-day government shutdown, the only local homeless shelter specifically for 18- to 24-year-olds is on life support.
Noank Community Support Services Executive Director Regina Moller said her nonprofit launched the nine-bed shelter, known as the Main Street House, with its own money in September 2017.
With research showing that young adults don't do well in traditional adult shelters, the nonprofit decided to fill the need in southeastern Connecticut.
Seeing good results — none of the 26 young adults served so far has returned to homelessness — Moller and her colleagues applied for and received about $340,000 from the state Youth Homelessness Demonstration Program, or YHDP. The initiative, funded by the U.S. Department of Housing and Urban Development, aims to get young adults into permanent housing.
Although the YHDP money became available Nov. 1, the Noank nonprofit couldn't access it then. Nonprofits that get grants from HUD first have to register for the Line of Credit Control System, which involves visiting their banks and exchanging forms with regional HUD offices.